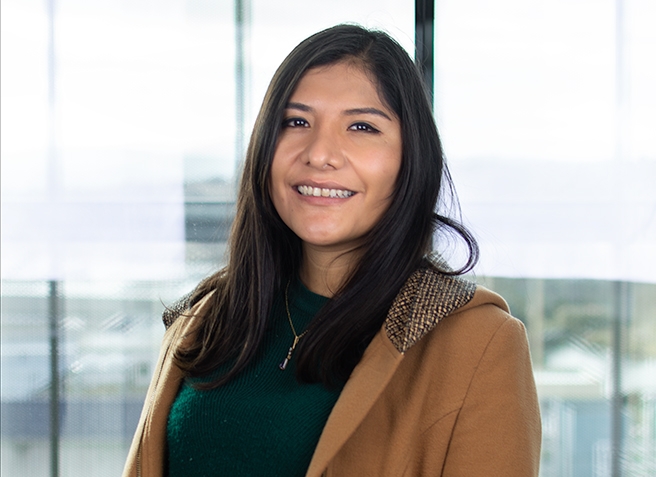 Presentation
Clara Aduviri obtained a Bachelor´s degree in Chemical Engineering from the Major University of San Simón in Bolivia (UMSS), 2018. She did her internship at the Lithium Battery Pilot Plant at the "Yacimientos de Litio Bolivianos" company (YLB) in Potosí, training part of the lithium battery research and pilot-scale assembly team.
Subsequently, she developed her final degree project at the Lithium Carbonate Pilot Plant with the YLB company located in the Salar de Uyuni 2017, applying knowledge of reaction kinetics, experimental design, pilot-scale production, control, and parameter optimization.
She made an exchange with the IAESTE program to work in R&D on HEMPEL paints, Barcelona 2018. In 2021 she worked for the CEMVI beverage company (Bolivia), in the administrative part of controlling health regulations and food safety.
In February 2022, she joined CIC energiGUNE as a laboratory technician in the Advanced Electrolyte and Cell Integration group.
Scientific interests
Batteries
Lithium precursors
Design of experiments
Coatings
Scientific career
Coin, prismatic and cylindrical lithium-ion batteries
Optimization of processes
Determination of reaction kinetics.
Formulation and analysis of decorative coatings.
Working on pilot and industrial scale and in research laboratories.
Awards
Innovate final degree project entitled "Optimization of parameters to obtain lithium hydroxide monohydrate", part os the qualifying court: former Minister of energy of Bolivia 2018 and obtaining the highest score. (UMSS, 2018)
Recognition for the production of lithium hydroxide on a pilot scale and optimization of processes. (YLB, 2018)